by
Ваглай Анна

Оберіть вашу мову:

1 Квітня 2022, 17:22
"Let's do it Ukraine SOS" delivers humanitarian aid for people in need
Ukraine's largest environmental movement Let's do it Ukraine has launched a project since the first day of the war that collects international humanitarian aid from various countries, including resource and financial donations to support volunteers, children, women, the elderly, and all victims of Russian invasion in Ukraine in their homes and shelters. The organization is […]
Ukraine's largest environmental movement Let's do it Ukraine has launched a project since the first day of the war that collects international humanitarian aid from various countries, including resource and financial donations to support volunteers, children, women, the elderly, and all victims of Russian invasion in Ukraine in their homes and shelters. The organization is included in the Unified Register of Recipients of Humanitarian Aid in Ukraine and officially cooperates with the national platform "SpivDiia".
Let's do it Ukraine SOS is a social project created by the All-Ukrainian Youth Movement "Let's do it Ukraine" with the support of the International Let's Do It World movement, which works on two forms of assistance to support civilians by providing food, personal care products, medicine.
WHO WE ARE
Photographer – Olexandr Makogonenko
More than 1 500 activists from different parts of Ukraine are taking part in the project. The movement has created teams of volunteers, redistributive warehouses for humanitarian aid at the border. The project is already providing humanitarian assistance in the following regions: Mykolaiv, Kherson, Kharkiv, Donetsk, Chernihiv, Cherkasy, Chernivtsi, Kyiv, Dnipropetrovsk, Zhytomyr, Vinnytsia, Rivne, Lviv, Zakarpattia, Zaporizhia and Odesa, Kirovohrad and towns Mariupol, Kherson, Irpin, Bucha, Kyiv, Kharkiv.
To make the project work 24/7, the organizers make a special selection of willing coordinators and volunteers who stay in Ukraine and have more than 3 years of experience in public activities. All volunteers undergo special training, submit video applications, in which they guarantee to perform their volunteer mission honestly and in accordance with the Laws of Ukraine, provide copies of documents and submit a documentary, photo, and video report of their work at the end of the day.
The leader of the All-Ukrainian Youth Movement "Let's do it Ukraine" Julia Markhel comments: "After a month of project activity, we received and distributed more than 240 tons of humanitarian aid. For UAH 1,600,000 charitable contributions, volunteers have already purchased and distributed food, personal care products, medicine, baby food, and diapers. We are grateful to everyone for their support, we are grateful to our volunteers, foreign and Ukrainian partners, all those who care, who make donations, send convoys of humanitarian aid. Whether your donation is big or small it is extremely valuable to us. Even one dollar can be a lifeline for a Ukrainian. We have launched an extensive volunteer assistance network in Ukraine. Our activists are looking for people in need and are working hard to help them in such a difficult time. We need your help! Support the project now at www.letsdoitukraine.org. Let's help thousands of civilians together!"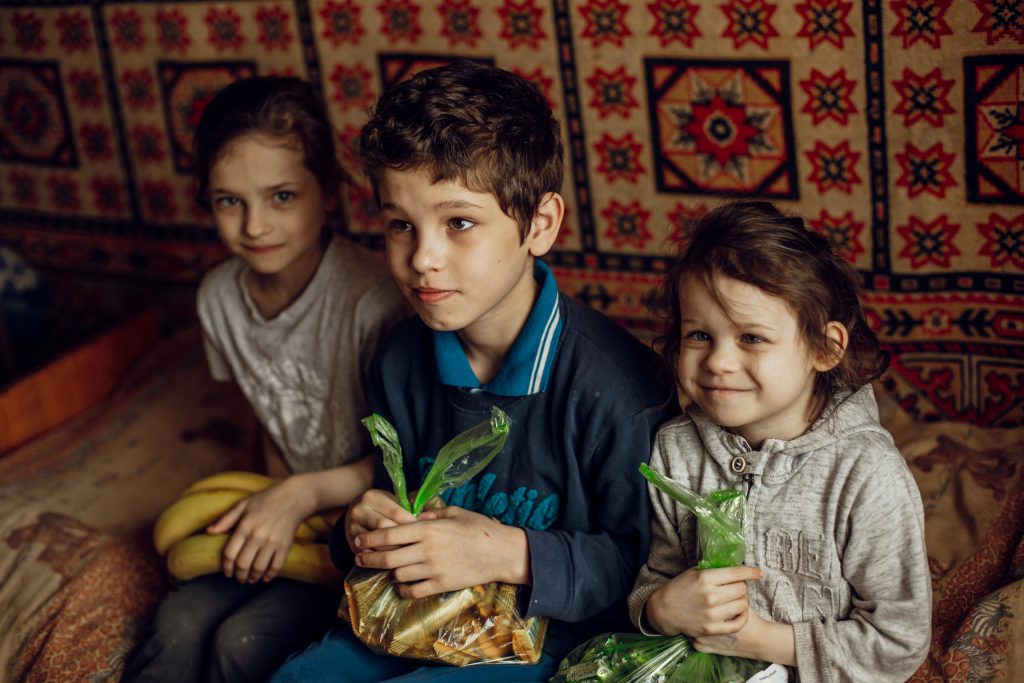 Photographer – Olexandr Makogonenko
HOW THE PROJECT WORKS
There are two types of Let's do it Ukraine SOS activities.
The first one – is delivering foreign humanitarian aid.

The organization provides support for logistics of goods from other countries, documentation, border crossing, transportation to warehouses, redistribution, and further delivery to the coordinators of regions, and cities according to current requests. Volunteers deliver aid to shelters and homes.

The second one – is providing citizens with essential resources due to financial donations

. This form helps to develop a supportive network without green corridors, whereas local food warehouses, shops, and pharmacies are open. Individuals and companies send contributions to the official account on the website www.letsdoitukraine.org. Volunteers purchase food, medicine, hygiene products and distribute aid to citizens. This concept is more flexible, as it allows assistance at sites impossible to reach by truck.
The project is supported by the Ministry of Youth and Sports of Ukraine, the Ministry of Development of Communities and Territories of Ukraine, JSC Ukrzaliznytsia, All-Ukrainian Youth Center.
In the cities of Ukraine, the situation is getting worse. Due to hostilities, people do not have access to food, medicine, and hygiene products. Cities such as Mariupol, Kherson, Kharkiv, Chernihiv, and Volnovakha are on the brink of a humanitarian crisis.
The project is supported by the Ministry of Youth and Sports of Ukraine, The Ministry of Communities and Territories Development of Ukraine, JSC Ukrzaliznytsia, All-Ukrainian Youth Center, LLC "Nova Poshta". Special thanks to HYDROSCAND GROUP Estonia, Let's Do It World, VITAUKR, Let's Do It Italy, Let's Do It Romania, Let's Do It Latvia, VITAUKR, KALLE SOLBA for humanitarian aid and donations.
Photographer – Olexandr Makogonenko
HOW CAN YOU HELP
To help Ukrainians survive these difficult times, you can make donations at www.letsdoitukraine.org, support on social media, and arrange the delivery of humanitarian aid to the border.
Make a charitable contribution according to the bank details below
Your voice, your actions save, heal and give Ukrainians the opportunity to live.
Humanitarian aid +380 068 951 92 46, Oleksandra Mukha.
Press service +380 97 928 98 70, Anna Vaglay.
OUR HUMANITARIAN EXPERIENCE
Mukachevo, Transcarpathia. Coordinator – Daryna Skyba.
In Mukachevo, together with a volunteer team, Daryna organizes humanitarian assistance, unloads cars, and sends them to other cities by rail or truck. The type of transport depends on the volume of cargo and the place where the humanitarian aid arrives. Aid has already been sent to distribution points, local shelters, orphanages.
"Difficulties may happen at the Border Crossing Checkpoint, but thanks to the large team of volunteers, we are able to quickly cope with daily challenges. Border areas are really safe. Drivers' arrival to the territory of Ukraine greatly simplifies our work," said Daryna Skyba.
Daryna Skyba notes that volunteering is supported by local businesses: warehouse management provides garages, carriers – their own trucks, local coffee shops help with food, individuals – with documentation and accounting.
Kharkiv. Coordinator – Kirill Chikiryakin.
Priority is given to children in Kharkiv, the elderly, and people who need treatment. Assistance is provided by address. Also, together with the patrol police, the team takes the necessary products to the bomb shelters.
"Most of our applications come through the Google Form, which allows us to prioritize and provide assistance primarily in critical situations. We have a big team of 40 drivers and a fleet of trucks," said Cyril.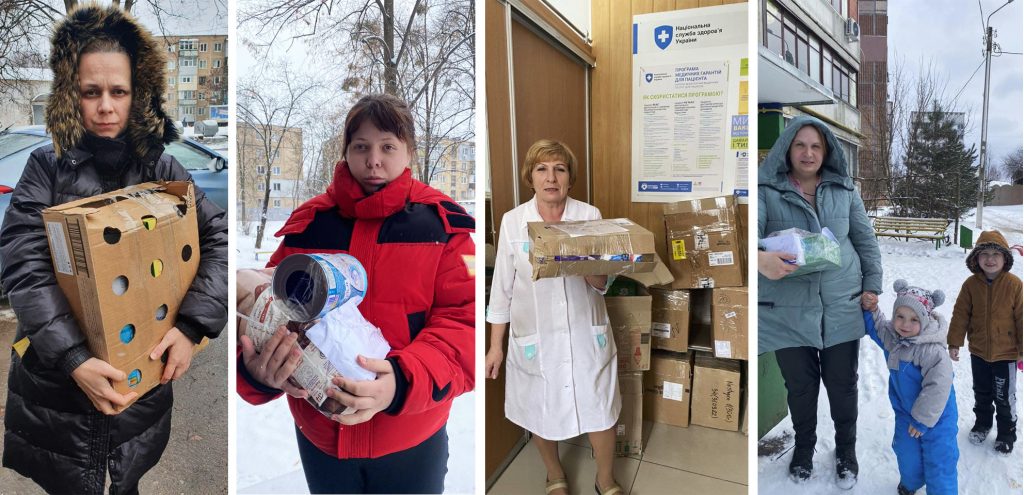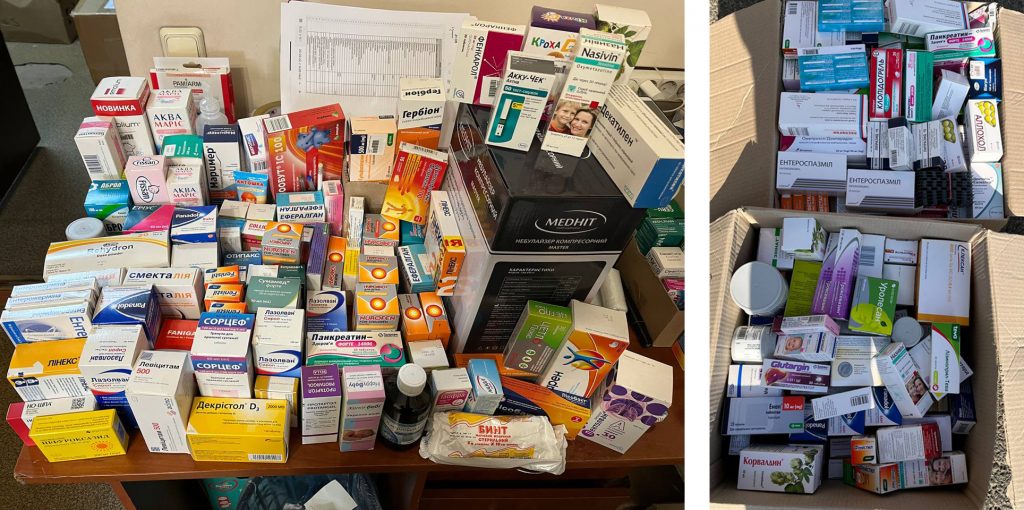 Kyiv region, Obukhiv. Coordinator – Anna Belimenko.
"In our village in each house live over a dozen people. Among the temporarily displaced persons are many large families. The pharmacy in the village is closed. The shelves in the shops of the village and district center are almost empty. We collect applications through communication with locals. We are looking for goods in a neighboring city. Most people are ashamed to talk about their needs, but we are working on building trust," said coordinator Anna Belimenko.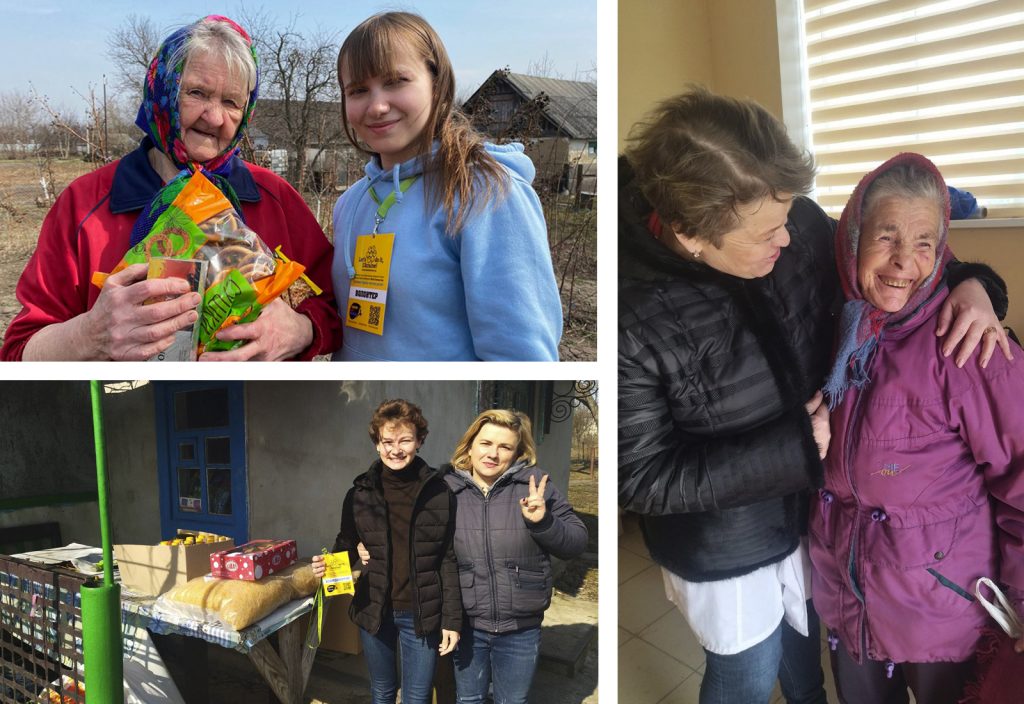 Dnipro region. Coordinator – Liubov Zhovtonizhko.
"From the first days of the war, internally displaced citizens from cities that were and still are under fire began to arrive in the Dnipropetrovsk region. Therefore, we decided to join forces with other organizations, city and regional councils in order to provide help quickly. We have a joint warehouse, which we replenish with joint efforts, together we process thousands of applications and then we pack boxes with the requested necessary things for those who need humanitarian aid. We also staff vehicles that transport aid to Mariupol, Lysychansk and other cities where residents are on the verge of a humanitarian catastrophe. Together we are stronger," commented Liubov Zhovtonizhko.
Zaporizhzhia. Coordinator – Savely Uzhva-Shklyaruk.
The local volunteering team collects requests for assistance on official websites and communities. "We regularly review chats for help, check messages for truthfulness and relevance. There are several cooking points in the city for territory defense, where we take food. We also collect applications from refugees, because the city has many people in need from Melitopol, Vasylivka, and Energodar," said Savely Uzhva-Shklyaruk.
One of the successful Savely's decisions was the agreement with business leaders on wholesale procurement. The owner has prepared everything in fairly large quantities. This agreement allowed the team to save money and time.
Kherson. Coordinator – Oleksiy Bozhonok.
Kherson is under occupation by Russian troops, so humanitarian supplies from other regions are impossible. The city coordinator  buys food, medicine, and hygiene products due to charitable donations.
"I collect applications every hour in the chat Help of the "Dopomoga UVC" and Kherson, where residents leave their inquiries. The list is divided into columns of necessary things, food, phone number, and address. Then I pass this information on to the volunteers, who form the food packages. We deliver aid to socially vulnerable groups: children, people with disabilities, the elderly, and people with special needs," comments Oleksiy Bozhonok. He notes that the most difficult situation is with medicines, for instance, Kherson region has completely run off L-thyroxine.
"For better coverage, we connect young people who collect needs from those living nearby. We are motivated by words of gratitude. When we see a smile and hope in people's eyes, the realization comes that together we are strong enough to get through these hard times".
Chernihiv region. Coordinator – Lana Kamenchuk.
Lana Kamenchuk cooperates with local social workers and the city council. Priority assistance is provided to socially vulnerable citizens: people with disabilities, the elderly, large families. Volunteers often have to travel more than 500 km and risk their lives to save hundreds of families.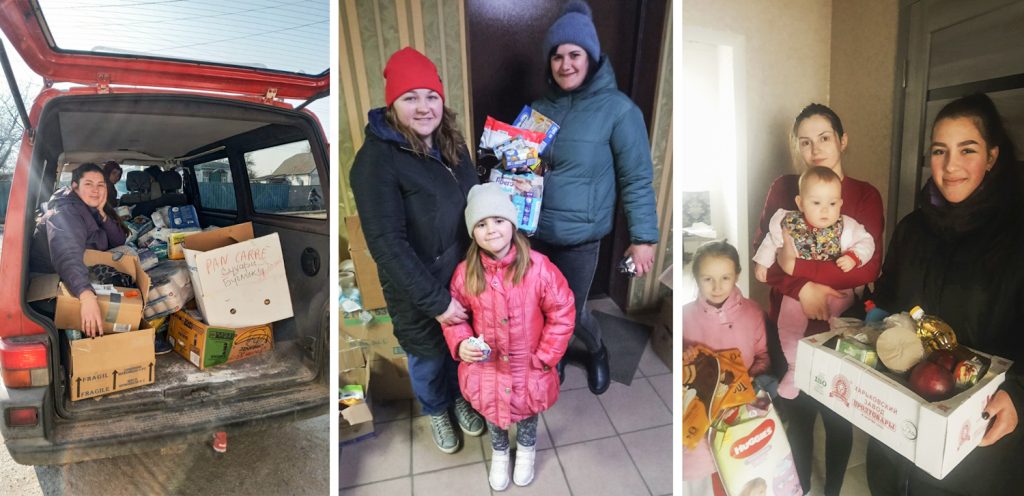 Irpin. Coordinator – Nataliia Kosiachenko.
"We recently received a request for help from Shevchenko Maxim – a volunteer who evacuates people from Irpin, takes them out and delivers aid to military and civilians. We bought some of the help ourselves. The other part was provided by "Protection Volunteers" from Khmelnytskyi: thermal underwear, underwear, medicine, hygiene products, ready meals. We took food from Let's do it Ukraine SOS warehouse in Kyiv. All this had to be transferred across the destroyed bridge, and then delivered to the checkpoints. We saw the devastation, total and painful, squeezing our chest. Shells that just stuck out of the asphalt, the remains of mines, burned to the ground houses – it all looked like a bloodcurdling movie scene. But it is not a movie anymore, it is reality…" – comments Nataliia Kosiachenko.
Coordinator Nataliia Kosiachenko and the volunteering team delivering aid cross the destroyed bridge of Irpin
We have collected only a small part of the coordinators' experience stories. Read more in the following news.
Make donations, collect humanitarian aid, offer shelters, attend protests, marsh. Your action can save lives. Stand with Ukraine!
Details at www.letsdoitukraine.org.